About 911 Restoration of New Hampshire
Meet the Team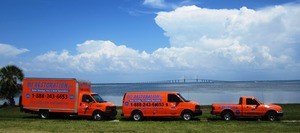 At 911 Restoration New Hampshire, the main focus is having a consistent work ethic in order to serve up the best customer service in the entire state.
Beyond our goal of achieving advanced customer service, our team in New Hampshire is dedicated to treating each other and their customers like family.
The friendly atmosphere starts in the company with snowmobile and muddying outings, and exudes into every job they do, home they repair, and family they help.
In such an event as flooded carpets or sewage backup, homeowners can rely on our New Hampshire water damage team to lead them to a Fresh Start.
If your home is already taking on water from a pipe burst, water heater loss, or any other means of flooding, then contact 911 Restoration New Hampshire today!
Water damage Facts and Tips
As part of this exquisite customer service, here are some tips to keep your home safe from the dead of winter and the life of spring.
Some important things to keep in mind about water damage and restorations:
Always keep your heat on when the weather gets cold. In New Hampshire, freezing temperatures can turn your basement into an ice rink by snapping your pipes. Leaving your heater on will protect your plumbing from freezing over. Your basement is not the only part of your property in danger during the winter storms.
It is important to shovel your roof to stop ice dams from forming. An ice dam occurs when ice builds on your roof, which then melts and causes leaks, ultimately resulting in water damage.
Throughout the year, make sure your attic is venting properly. This is a place perfect for mold growth. When rain leaks or ice melts through your roof, the place will become damp. If your attic is not venting, that humidity will collect in your attic until mold spores coalesce around it and spread throughout your property.
Mold and water damage both lead to building issues, large expenses, and health risks.
Use these tips to protect your home. Don't let your property succumb to the effects of water damage in any form. Contact the water damage team at 911 Restoration of New Hampshire today!
Professionalism in the Face of Water Damage

One of the biggest jobs that 911 Restoration New Hampshire has completed was a recent sewage cleanup. Two feet of black water had swamped a building for more than three months.
Beyond the original bacteria swimming through the category 3 disaster, insects and larvae had taken up residence in the toxic mess.
When our team received the call, they faced the terror with stalwart professionalism.
They helped the customer recover from the caustic flood and acted as though he was family.
They made sure he understood that they would repair the extent of the damage and save his biggest investment by returning value to the building.
By the time they finished the massive job, the building was returned to its original beauty. For equal customer satisfaction, call the water damage team at 911 Restoration of New Hampshire and see their intense work ethic for yourself today!