Mold Removal Derry
Mold is a fungus that's an integral part of the outdoor ecosystem. However, when you find mold growing within your home, you should get in touch with 911 Restoration New Hampshire right away!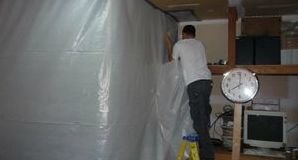 While it is a natural component of the outdoor environment, mold has no place within your home. You can expect the mold removal Derry specialists from 911 Restoration to get rid of this troublesome fungus with our remediation and decontamination services.
When you detect mold growth within your home, it is crucial that it be removed right away. It won't take long for mold to start releasing spores that could affect the structural integrity of your home, as well as your health.
Spores in the air within your home could cause allergic reactions, coughing and other respiratory health conditions. Instead of trying to remove mold on your own, the best (and safest) way would be to contact our mold removal Derry pros right away. You can expect our technicians to arrive on your property within 45 minutes of your call.
The Dangers Of Mold Infestations
Mold infestations can be cause by water damage. A roof leak or a pipe burst can create a moist environment where mold can thrive. Mold can grow behind drywalls, crawlspaces, and the foundation. Among the dangers that can result from mold growth include:
Structural Damage – the foundation and walls could collapse because mold feeds on the area it grows on.
Reduced Aesthetic Appeal – Mold infestations are ugly to look at and will reduce the overall aesthetic appeal of the affected area.
Health Problems – Asthma, allergies, and coughing are among the issues caused by mold spores being released in the mold infested section of your home.
When you call 911 Restoration, our mold removal Derry team will be conducting will be provide you with a free inspection and estimate to locate the source of the problem. Our technicians will be able to locate the source of the leak and they will perform the necessary repairs to patch it up. You can then expect them to clean the area of any mold growth.
Our mold removal Derry specialists will be equipped with protective hazmat gear and will be making use of industrial strength cleaning chemicals to effectively cleanse the area of mold that will not harm floors or the walls.
Our mold removal Derry technicians will be able to reach the hard-to-reach areas where mold loves to grow including crawlspaces, attics, and between walls. Finally, our team will be getting rid of that moldy smell with our odor removal services.
The Company That Will Help You Protect Your Home Against Mold
Mold removal Derry pros from 911 Restoration are available 24/7/365 for all of your mold or water-related concerns. Our IICRC certified technicians are fully trained and capable of ridding your home of mold effectively, as well as repair and restore the area back into shape.

You can expect us to do everything necessary to get rid of mold from your home permanently. We will be performing remediation and water damage repair to get rid of moisture.
Aside from the quality repairs and remediation our team can provide, you can count on us to help you file your insurance claims with your insurance provider. This for your convenience and for you to get the most affordable price for the services your home needs.
Whenever your home is plagued by mold growth, you can always rely on the mold removal Derry team from 911 Restoration New Hampshire. Give us a call today!