New Hampshire Sanitization Services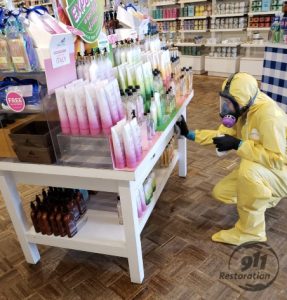 The coronavirus has changed life as we know it throughout the state of New Hampshire. As families quarantine themselves inside of their homes, schools and businesses across the state are shutting their doors. As this pandemic continues to grow, the best thing to do is to practice social distancing, wash your hands for at least 20 seconds throughout the day, stay at home whenever possible, and wear a face mask when you go to the pharmacy or the grocery store to reduce the spread.
 One of the scariest parts of this pandemic is that you do not know who might have the virus. This is because people can be infected but not show any signs or symptoms for up to two weeks. When symptoms do finally occur, they resemble the common flu and can include:
Fever

Aches and pains

Tiredness or fatigue

Dry coughing or wheezing

Severe breathing difficulties
In order to protect those you love and to prevent the spread of the virus, you must practice personal hygiene as well as deep clean your home.
Businesses, and local residents, are feeling the toll. During this time of great fear and uncertainty about what lies ahead, it's nice to know that 911 Restoration of New Hampshire is here to help. We want to provide covid 19 cleaning services in New Hampshire and provide a safe environment for all New Hampshire residents. Our specialists are trained to follow the stringent protocols set by the CDC and EPA.
Call us at 603-693-6195 and see how we can help you.
Our team has the tools and techniques to safely and thoroughly deep clean your home or business down to a microscopic level. We will rid your house, apartment complex, office building, retail store, or restaurant of icky germs and viruses that could be lurking on every surface of your commercial or residential building.
911 Restoration of New Hampshire is available 24/7/365. Day or night, we will be at your doorstep within just 45 minutes of your first phone call to us. We'll deep clean your home or business to give you the peace of mind you need and to provide a fresh start for all. Call us at 603-693-6195 and learn how we can help.