Mold Removal New Hampshire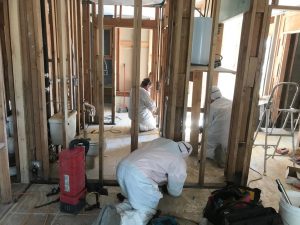 911 Restoration New Hampshire is committed to provide our community's homeowners with first-rate mold removal service in New Hampshire. With our phone line open around the clock and the promise of same-day service, our team is ready to assist you with all your mold mitigation needs. 
New Hampshire weather can be harsh, especially during winter months. Water damage and piping problems run high risk of occurrence during colder periods, leading to a higher risk of mold infestation under carpets, in walls, and on the ceiling.
Mold is particularly hard to detect, as they often occur in neglected spots. Fortunately 911 Restoration New Hampshire works with IICRC certified technicians that have the latest thermal technology to identify hidden mold spots and perform a thorough mold removal service job.
If you see discolored spots on your walls or detect a musty odor characteristic of mold, call our mold remediation specialist in New Hampshire with 911 Restoration New Hampshire to speak with one of our representatives and a service truck will be dispatched towards your location at your earliest convenience. Call us at 603-693-6195 and please allow us to offer you a free visual inspection.

If your home or business is smelling musty, then you may already have a mold growth scenario afoot. Our office agents are available 24/7/365 to take you calls, so contact our mold removal Manchester specialists with 911 Restoration New Hampshire today!
Health Risks of Mold Contamination

Mold is a type of fungi, and while the fungus itself is rarely pathogenic to humans, its airborne toxins can cause allergic reactions and respiratory infections if inhaled in large quantity.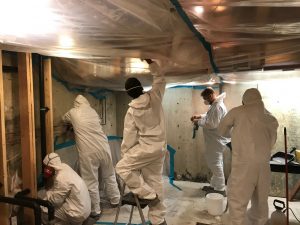 If you or members of your household are experiencing any of these symptoms, perform a thorough check of your home, especially in places like your crawlspace, basement, or attic, for signs of mold.
Since water damage and mold often go hand-in-hand, remember to check up on all appliances that use water and areas that usually collect extra moisture such as below the sink.
As one of the industry leaders in water damage restoration in New Hampshire, 911 Restoration New Hampshire is uniquely equipped to take care of all your mold removal needs, we can eliminate the problem at the source, not just taking care of the issue on the surface.
Exposure to mold poses minimal health risks in the short term, but if you prolong the exposure, more serious health problems can arise. In fact, according to the American Lung Association mold is a leading cause of the development of asthma in adolescents. Common symptoms of health issues related to mold include:
Itchy skin
Congestion
Headaches
Itchy eyes
Coughing
Fatigue
Loss of energy
Nausea
Dizziness
Don't let your lovely home or business succumb to the devastating effects of a mold growth scenario. Contact our mold removal Manchester specialists with 911 Restoration New Hampshire for all the help you need to breathe easy again today!
Call us at 603-693-6195 and learn how we can help.
Mold Removal and Mitigation Options
Mold is no mystery to most homeowners, as spoiled food is the number culprit in introducing mold spores into your home. In mild and contained mold infestation cases, professional mold removal is actually not necessary: simple DIY clean-up with vinegar or alcohol would suffice.
Professional mold damage restoration in New Hampshire is essential, especially when the mold has infiltrated the infrastructure of your home, spreading throughout the house and damaging building materials such as your frame, carpeting, drapes, or insulation materials.
Furthermore, different types of mold are more toxic than others and may pose larger health risks. Black mold is the most toxic of household molds, with airborne toxins that can cause depression symptoms.
Safe handling of black mold requires protective gears and knowledge of appropriate treatment techniques. With more than 30 years of experience in mold removal, 911 Restoration New Hampshire and our technicians are experts in mold decontamination and can return your home to a safe and healthy environment in no time.
Call us at 603-693-6195 and see how we can help you.
Mold can grow rapidly, even overnight. If you have experienced a recent rain leak, pipe burst, or any form of household flooding, you may have a mold contamination growing without even knowing it.
To inquire about our free home inspection and get help from one of our mold removal Manchester experts then contact our team with 911 Restoration New Hampshire for help today!
Serving the communities of Barrington, Derry, Manchester, Plymouth, Portsmouth, Rochester, Manchester, Salem, Merrimack, Nashua, Hampton, Hooksett, Hudson, Dover and surrounding area.