Mold Removal in Manchester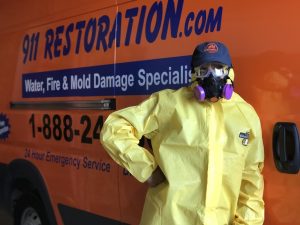 Do you need help with mold removal in Manchester? You can get the mold decontamination services you need by contacting 911 Restoration of New Hampshire, 24/7/365. IICRC certified mold remediation techs can reach your home or business within 45 minutes of an emergency call to:
Complete a Free Visual Mold Inspection for Property Owners Only

Isolate Areas Experiencing Mold Growth

Cleanup Your Property and Your Possessions

Get Rid of Foul Odors with Mold Decontamination
Let us return your property to better-than-new condition after you find signs of mold. Mold removal crews are ready to get started with a mold inspection in Manchester.
Will Mold Remediation in Manchester Get Rid of Black Mold?
All forms of mold can cause damage to your property during a fungal outbreak. Some types of mold, like black mold, can also threaten your health. Fortunately, you can protect your physical well-being by immediately beginning mold remediation in Manchester.
The mold cleanup techs at 911 Restoration of New Hampshire are licensed, bonded, and insured to eradicate black mold in your home or business. Mold decontamination crews can even send a sample of your mold to a 3rd party laboratory for testing to determine if you are dealing with black mold.
You can get the help you need to erase all signs of a black mold infestation by contacting 911 Restoration of New Hampshire today. Get a mold inspection to check for signs of this toxic fungus today.
How Long Will Mold Cleanup in Manchester Take?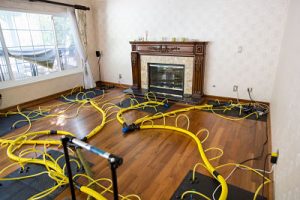 The mold cleanup process generally takes around 1-to-5 days to complete. However, some instances of mold remediation in Manchester may take longer if you are dealing with a very large mold infestation. A mold inspection can help mold removal techs determine how long it will take to:
Remove All Odors Associated with Mold Growth

Scrub Down All Areas Exposed to Fungus

Clean and Disinfect Your Possessions
The mold removal techs at 911 Restoration of New Hampshire believe that mold remediation will not be completed until your property is returned to perfect condition. Let us start working on mold cleanup for your home or business now, so you can get back your peace of mind.
Servicing the cities of Alton, Amherst, Andover, Antrim, Ashland, Auburn, Barnstead, Barrington, Bartlett, Bedford, Belknap County, Belmont, Berlin, Bethlehem, Bow, Bradford, Brentwood, Bristol, Brookline, Campton, Canaan, Candia, Canterbury, Carroll County, Center Conway, Charlestown, Cheshire County, Chesterfield, Chichester, Claremont, Colebrook, Concord, Contoocook, Conway, Coos County, Danville, Dover, Deerfield, Derry, Dunbarton, Durham, Enfield, Epping, Epson, Exeter, Farmington, Franklin, Fredericksburg, Fremont, Gilford, Goffstown, Gorham, Grafton County, Grantham, Greenfield, Greenland, Hampstead, Hampton, Hampton Falls, Hancock, Haverhill, Henniker, Hillsboro, Hillsborough County, Hinsdale, Holderness, Hollis, Hooksett, Hudson, Jaffrey, Keene, Kingston, Laconia, Lebanon, Lincoln, Litchfield, Littleton, Londonderry, Loudon, Lyme, Manchester, Marlborough, Meredith, Merrimack, Merrimack County, Milan, Milford, Moultonborough, Nashua, New Boston, New Durham, New Hampshire, New Hampton, New Ipswich, New London, Newbury, Newmarket, Newport, North Conway, North Hampton, Northwood, Nottingham, Oxford, Ossipee, Pelham, Peterborough, Pittsfield, Plaistow, Plymouth, Portsmouth, Raymond, Rindge, Rochester, Rockingham County, Rollinsford, Rye, Salem, Sanbornton, Sandown, Seabrook, Somersworth, Spofford, Strafford, Stratham, Sullivan County, Sunapee, Suncook, Swanzey, Tamworth, Tilton, Wakefield, Walpole, Warner, Waterville Valley, Weare, Whitefield, Winchester, Windham, Wolfeboro, Woodstock, Woodsville … and surrounding areas.