Water Damage in New Hampshire
Weather Alert: If you are experiencing weather-related damage from the storm, call us today for emergency assistance!
911 Restoration of New Hampshire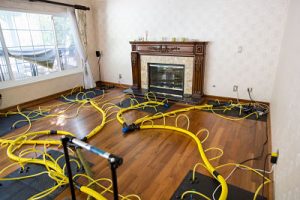 Summer floods, hurricanes, and snowstorms can wreak a tremendous amount of damage on properties around Manchester, Nashua, and Concord. Property owners also have to contend with fires, mold infestations, and sewage backups, and water damage in New Hampshire
Any one of these property damage emergencies can feel impossible to handle on your own. Fortunately, the professional water damage restoration help you need in New Hampshire is only a phone call away. You can contact 911 Restoration of New Hampshire 24/7. Once you call us, we will immediately send out a property restoration technician who will reach your property within 45 minutes. Call us at 603-693-6195 and allow us to offer you a free visual inspection.

At 911 Restoration of New Hampshire, we offer a Fresh Start with our comprehensive selection of property damage restoration services, including but not limited to:
Whether you're a New Hampshire homeowner or business owner, 911 Restoration of New Hampshire is your Fresh Start! We'll communicate with you throughout the entire process, help answer questions related to insurance, and restore your property to its pre-damaged condition. One of our IICRC-certified teams is dispatched within 45 minutes of your call! Contact us today, and one of our friendly representatives will assist you in finding the nearest New Hampshire location.
Service area map
Get same day property restoration services from a locally family owned company you can trust by calling 911 Restoration of New Hampshire today. Let us completely restore your property so you can have a Fresh Start after any property disaster. Call us at 603-693-6195 and see how we can help.

Client Testimonial
Sherry M.
"I would give them 6 stars if I could. I had to deal with a flood in my business, an absolute nightmare for every business owner. 911 Restoration came right away, and they are so professional and efficient. Even after everything was done they followed up and made sure everything was back to normal. A+ customer service. Thank you!"
Water Damage in New Hampshire
Property owners in New Hampshire can experience water damage after summer storms and heavy snows. The long, cold winter months can lead to frozen pipes that leak or burst, flooding homes or businesses around Concord, Manchester, and Nashua.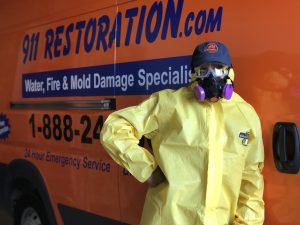 Water can begin causing damage right away, and the damage will only grow more severe if the water is not promptly removed. Stagnant water in a flooded basement or crawlspace can damage the structure of your property and lead to mold infestation.
911 Restoration believes in handling water damage restoration in New Hampshire quickly. We will arrive at your property with the equipment to:
Extract Water Quickly and Effectively

Locate Spots of Hidden Moisture

Dry and Dehumidify Your Property
Get help immediately if you are dealing with any type of water damage by calling 911 Restoration of New Hampshire today at 603-693-6195.
Sanitization Services & Disinfection Solutions
The spread of the coronavirus through New Hampshire is impacting the way we live our lives. Many people are worried to go outside. It can be difficult for most of us to tell if we are exposed to the virus, or capable of transmitting it to others. During this unsure time, you can do your part to slow the coronavirus and help things return to normal. For example, you can self-quarantine and take steps to disinfect your property with sanitization services.
The crew at 911 Restoration of New Hampshire can help you with cleanup and sanitization services. Our crews are specially trained to handle both residential and commercial disinfection solutions. We are here to support you if your business is considered essential and you must remain open during this pandemic. You can also contact us for sanitization services if your business was shut down due to the coronavirus. We can get your business cleaned and disinfected, so you're ready to re-open as this virus passes.
Frozen Pipes and Flooded Basements
The weather in New Hampshire can be brutal in the winter months. Sub-freezing temperatures can quickly lead to frozen pipes, which can burst without warning. Many times, pipes freeze and burst in basements around Concord and Nashua.
You can get help handling water damage caused by a flooded basement the right way by contacting 911 Restoration of New Hampshire as soon as you notice a problem. Removing water from your basement and ensuring every inch of your property is dry and dehumidified can prevent additional problems down the line.
Call us right now at 603-693-6195 to ensure your property is in perfect condition after your pipes freeze or your basement floods.
Mold Removal
Mold can stealthily infiltrate homes and businesses throughout Concord, Nashua, and Manchester. You might not notice mold growth until long after the fungus has infested your property. You can call 911 Restoration for a free visual mold inspection for property owners only if you spot growth that could be mold.
Mold removal should begin immediately if you do have a mold infestation. Some kinds of mold can endanger your health, and all types of mold can cause extensive property damage.
The New Hampshire mold removal specialists at 911 Restoration are IICRC certified to take care of mold remediation and mold cleanup. Mold removal New Hampshire techs will use advanced tools and techniques to:
Stop Mold from Spreading

Handle Odor Removal

Clean and Disinfect Mold Infested Areas
The technicians at 911 Restoration will not consider the job done until your home or business is returned to the perfect condition you deserve. Call us now to take the first steps on your way to a Fresh Start after a mold infestation.
Sewage Backup and Cleanup
Blocked pipes and serious flooding can lead to sewage backups. Sewage often causes tremendous amounts of damage when it floods into commercial or residential properties in Nashua, Concord, and Manchester.
Sewage backups are also dangerous because sewage is contaminated with pathogens and bacteria that can make you incredibly ill. No one should touch or clean up sewage without specialized protective gear.
The sewage cleanup technicians at 911 Restoration of New Hampshire are licensed, bonded, and insured to handle water damage and raw sewage safely. You can count on us to pump sewage out of your property. We will take steps to ensure you do not have to face another backup. The techs will also thoroughly disinfect your property.
You should not be able to tell a sewage backup ever occurred by the time our techs are finished the sewage cleanup process. Contact us today at 603-693-6195 to get professional help handling any sewage emergency.
Fire and Smoke Damage Restoration
Fire can be one of the most destructive forces on Earth. It can cause serious damage to homes and businesses in the Concord area. Fortunately, 911 Restoration of New Hampshire is here to help you recover with fire damage restoration services.
Fire damage restoration involves:
Removing Damaged Sections of Your Home or Business

Taking Care of Fire Damage Cleanup

Restoring Your Property and Possessions

Removing Smoke, Odors, Ash, and Soot
911 Restoration of New Hampshire is a full-service fire damage restoration company that offers free fire damage assessments and direct insurance billing. Find out exactly how we can help you after a fire by calling us today. Our fire damage restoration technicians are ready to spring into action when you need help.
Disaster Restoration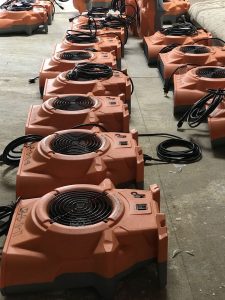 Disasters come in many forms in the area around Nashua, Concord, and Manchester. Property owners may have to deal with blizzards, fires, floods, and plumbing emergencies. No matter what disaster you are facing, you don't have to recover from it alone.
911 Restoration of New Hampshire has years of experience handling property disasters the right way. We utilize cutting-edge restoration equipment and focused strategies designed to get your property back into perfect condition as quickly as possible.
You can count on us to pack out and store your possessions during the restoration process, so they are safe and protected. Technicians can review your specific restoration needs with a free visual inspection for property owners only.
Here at 911 Restoration of New Hampshire, no job is too big or too small. Techs will handle large issues like structural damage and small details like odor removal. Call us to get the comprehensive restoration services you need after any property disaster. Call us at 603-693-6195 and see how we can help.

Serving the communities of Amherst, Andover, Auburn, Derry, Durham, Enfield, Epping, Keene, Kingston, Laconia, Lebanon, Litchfield, Plymouth, Portsmouth, Raymond, Barrington, Bartlett, Bedford, Exeter, Farmington, Franklin, Fredericksburg, Londonderry, Manchester,  Rochester, Salem, Berlin, Gilford, Goffstown, Grafton County, Merrimack, Sandown, Seabrook, Somersworth, Milan, Milford, Nashua, Hampton, Suncook, Newmarket, Newport, Hillsborough, Weare, Claremont, Concord, Winchester, Windham, Hooksett, Hudson, Pelham,  Dover and surrounding area.