Water Damage Restoration in Suncook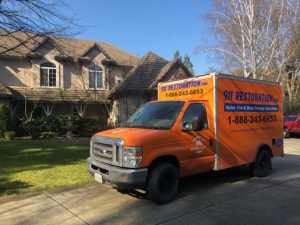 As a property owner in Suncook, you know that every source of property damage is on you to address. While damage can come from multiple sources, none are as common as water damage. Water damage can strike as a ceiling leak or something more devastating such as a pipe burst. That's why our IICRC certified technicians are standing by 24/7/365 to get started on any mold remediation or water damage restoration needed by our Suncook customers. Whether you live in Suncook, Gilford, Seabrook, or another city in the New Hampshire area, we promise to arrive within 45 minutes to start working on your water damage restoration.
Water damage only needs 24 hours to start creating mold. The longer water is left standing the more mold will grow and spread. You can avoid this problem by seeking the assistance of trained mold removal technicians immediately after observing a problem.
Once you know of the need for mold remediation or water damage restoration call 911 Restoration. Our technicians are ready to help you with anything from water damage inspection to flood cleanup. Call today to get the Fresh Start you need to begin anew in Suncook and surrounding New Hampshire area.
Water Removal Companies
Water removal companies are there to handle anything from a flooded basement to providing a full water cleanup service. However, that doesn't mean they all provide a comprehensive approach to your water damage restoration. Failure to address every concern when it comes to water damage leads to much bigger problems in the future. That's why our IICRC certified technicians work hard to develop their water damage restoration process to perfection using a combination of ongoing training and years of experience.
When we start, we always begin with our visual inspection. This step is performed before we even unload the equipment. We do this in order to understand the extent of the water damage, the status of any existing mold infestation, and what repairs are required to restore the property to good as new. Once the inspection is finished, we're ready to start on our water extraction and drying process. We perform this task with nothing less than the latest water extraction equipment and commercial dryers to ensure the property is completely dried out.
Our technicians don't consider the job complete until all repairs are completed. We not only repair the source of the water damage, but we also take care of other concerns such as sheetrock installation or carpet cleaning.
Once you notice or suspect mold or water damage, call 911 Restoration. We'll arrive in 45 minutes to begin on your mold remediation and water damage inspection. Don't wait to get the Fresh Start you need to start over in Suncook.
House Flooding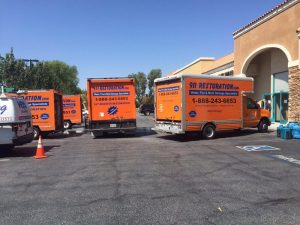 House flooding is a common problem. It's why flood insurance exists for property owners. While a flooded basement is the most prevalent example, in truth it happens anywhere on the property. This is because pipes run throughout the building and at any time can result in a pipe burst. Besides the excess amount of water, there are also contaminants ranging from dirt to raw waste present in the water. That's why we perform our flood cleanup process to address this problem.
As your water extraction company, we start the flood cleanup process with our combination of decontamination and mold decontamination. With this step, we ensure that all bacteria and mold are neutralized before removal. After this step is completed, we can begin our normal water damage restoration process.
Call 911 Restoration once you need emergency restoration services. Get the Fresh Start you need in Suncook.
Servicing the cities of Alton, Amherst, Andover, Antrim, Ashland, Auburn, Barnstead, Barrington, Bartlett, Bedford, Belmont, Berlin, Bethlehem, Bow, Bradford, Brentwood, Bristol, Brookline, Campton, Canaan, Candia, Canterbury, Center Conway, Charlestown, Chesterfield, Chichester, Claremont, Colebrook, Concord, Contoocook, Conway, Danville, Deerfield, Derry, Dover, Dunbarton, Durham, Enfield, Epping, Epsom, Exeter, Farmington, Franklin, Fredericksburg, Fremont, Gilford, Goffstown, Gorham, Grantham, Greenfield, Greenland, Hampstead, Hampton, Hampton Falls, Hancock, Hanover, Haverhill, Henniker, Henniker, Hillsboro, Hinsdale, Holderness, Hollis, Hooksett, Hudson, Jaffrey, Keene, Kingston, Laconia, Lebanon, Lincoln, Litchfield, Littleton, Londonderry, Loudon, Lyme, Manchester, Marlborough, Meredith, Merrimack, Milan, Milford, Moultonborough, Nashua, New Boston, New Durham, New Hampshire, New Hampton, New Ipswich, New London, Newbury, Newmarket, Newport, North Conway, North Hampton, Northwood, Nottingham, Orford, Ossipee, Pelham, Peterborough, Pittsfield, Plaistow, Plymouth, Portsmouth, Raymond, Rindge, Rochester, Rollinsford, Rye, Salem, Sanbornton, Sandown, Seabrook, Somersworth, Spofford, Strafford, Stratham, Sunapee, Suncook, Swanzey, Tamworth, Tilton, Wakefield, Walpole, Warner, Waterville Valley, Weare, Whitefield, Winchester, Windham, Wolfeboro, Woodstock, Woodsville, and surrounding areas.