Water Damage and Mold Removal in Rochester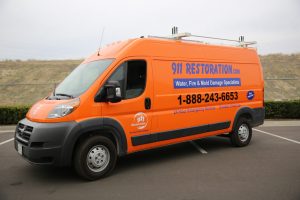 911 Restoration of New Hampshire can help you recover from a winter storm, flood, or pipe burst in Rochester. You can reach out to IICRC certified water damage restoration and mold removal techs 24/7/365. Flood cleanup crews can offer you a Fresh Start by reaching your property within 45 minutes of an emergency call.
Let our licensed, bonded, and insured flood cleanup and mold remediation crews perform a water damage and mold inspection to determine how best to restore your property. Based on the results of your water damage and mold inspection, techs can:
Begin Water Extraction

Handle Carpet Water Damage

Repair Leaks in Your Ceiling

Take Care of Mold Remediation

Handle Odors with Mold Decontamination
What Happens During Water Damage Restoration in Rochester?
Water damage restoration and mold remediation in Rochester can vary to meet your unique needs. However, there are a few common aspects of water damage restoration and mold removal in Rochester that we can go over right now. Depending on your water damage and mold inspection, crews could:
Use Professional Pumps to Remove Excess Water

Dry Out Your Property with Fans and Dehumidifiers

Repair Structural and Aesthetic Property Damage

Complete Comprehensive Mold Decontamination
All aspects of flood cleanup in Rochester are designed to return your property to perfect condition after a hurricane, winter storm, or pipe burst.
Do You Have to Leave During Mold Remediation in Rochester?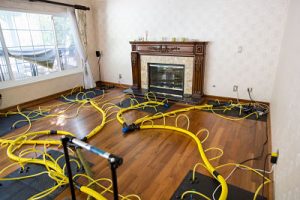 Here at 911 Restoration of New Hampshire, we understand how stressed you can feel after a flood or pipe burst in Rochester. Our flood cleanup techs will do everything possible to relieve your stress during mold removal and water damage restoration in Rochester. This includes working to ensure you can remain in your property during repairs.
Mold decontamination techs can assess your situation with a mold inspection in Rochester. In many situations, you can stay in your home or business as techs isolate areas that need mold remediation with plastic sheeting and negative air machines.
You can re-enter all areas of your property once mold decontamination in Rochester is completed and your property is returned to better-than-new condition. Let us start flood cleanup and mold removal immediately following a pipe burst, snow storm, or hurricane to limit the total time it will take to fully restore your home or business.
Servicing the cities of Alton, Amherst, Andover, Antrim, Ashland, Auburn, Barnstead, Barrington, Bartlett, Bedford, Belknap County, Belmont, Berlin, Bethlehem, Bow, Bradford, Brentwood, Bristol, Brookline, Campton, Canaan, Candia, Canterbury, Carroll County, Center Conway, Charlestown, Cheshire County, Chesterfield, Chichester, Claremont, Colebrook, Concord, Contoocook, Conway, Coos County, Danville, Dover, Deerfield, Derry, Dunbarton, Durham, Enfield, Epping, Epson, Exeter, Farmington, Franklin, Fredericksburg, Fremont, Gilford, Goffstown, Gorham, Grafton County, Grantham, Greenfield, Greenland, Hampstead, Hampton, Hampton Falls, Hancock, Haverhill, Henniker, Hillsboro, Hillsborough County, Hinsdale, Holderness, Hollis, Hooksett, Hudson, Jaffrey, Keene, Kingston, Laconia, Lebanon, Lincoln, Litchfield, Littleton, Londonderry, Loudon, Lyme, Manchester, Marlborough, Meredith, Merrimack, Merrimack County, Milan, Milford, Moultonborough, Nashua, New Boston, New Durham, New Hampshire, New Hampton, New Ipswich, New London, Newbury, Newmarket, Newport, North Conway, North Hampton, Northwood, Nottingham, Oxford, Ossipee, Pelham, Peterborough, Pittsfield, Plaistow, Plymouth, Portsmouth, Raymond, Rindge, Rochester, Rockingham County, Rollinsford, Rye, Salem, Sanbornton, Sandown, Seabrook, Somersworth, Spofford, Strafford, Stratham, Sullivan County, Sunapee, Suncook, Swanzey, Tamworth, Tilton, Wakefield, Walpole, Warner, Waterville Valley, Weare, Whitefield, Winchester, Windham, Wolfeboro, Woodstock, Woodsville … and surrounding areas.