Water Damage Restoration in Seabrook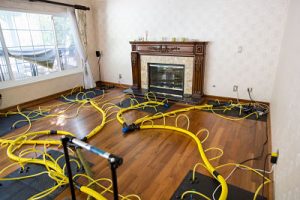 Being a property owner in Seabrook is rewarding yet challenging. Every time property damage occurs, it's up to you to address and resolve. Failure to pay attention quickly enough can lead to the building becoming unlivable. While property damage can strike in numerous ways, none are as common or destructive as water damage. Water damage can occur due to something tiny like a ceiling leak or something larger such as a pipe burst. That's why our IICRC certified technicians are standing by 24/7/365 ready to get started on any mold remediation or water damage restoration needed by our Seabrook customers. Whether you live in Seabrook, Durham, Litchfield, or another city in the New Hampshire area, we guarantee our arrival within 45 minutes ready to get started on your water cleanup service
It only takes 24 hours for water damage to begin producing mold. Sometimes it can happen even quicker. Regardless, the more the water is left ignored, the further the mold can spread throughout the property. This can result in you needing mold removal services on top of water damage restoration. That's why it's best to promptly resolve the problem by calling in trained professionals as soon as possible.
Once you're aware of the need for mold remediation or water damage restoration call 911 Restoration. Our technicians are ready to assist you with anything from water damage inspection to flood cleanup. Call today to get the Fresh Start you need to begin anew in Seabrook and surrounding New Hampshire area.
Water Extraction Company
An exceptional water extraction company is one that offers trained professionals that perform a fully comprehensive service. Unfortunately, this is not always the case. Sometimes a step can be performed incorrectly or not at all. This misstep can lead to further problems weeks or months later. That's why our IICRC certified technicians work to develop their water damage restoration process to perfection using a combination of ongoing training and years of experience. 
We always begin with a visual water damage inspection. We do this even before we unpack the equipment. Once we arrive, we use our findings to understand the extent of the water damage, the status of any existing mold infestation, and what repairs are required to restore the property to good as new. As soon as the inspection is complete, we're prepared to get started on our water extraction and drying process. This task is performed with nothing less than the latest water extraction equipment and commercial dryers to ensure the property is completely dry.
Once you notice or suspect mold or water damage, call 911 Restoration. We'll show up in 45 minutes to begin on your mold remediation and water damage restoration. Don't wait to get the Fresh Start you need to start over in Seabrook.
Flood Cleanup Company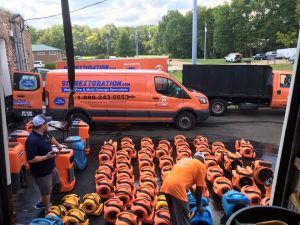 As your flood cleanup company, we know that house flooding needs a little more than the standard water restoration process. That's why we created our flood cleanup process. We use this approach to address a large amount of water as well as the contaminants present. Depending on the type of pipe burst, the water can contain dirt or even raw waste. With this process, we ensure our Seabrook customers are safe and healthy every time. 
The flood cleanup process starts with a combination of decontamination and mold decontamination. With this step, our goal is to completely neutralize all bacteria and mold present within the water. Once this step is finished, we can start on our normal water damage restoration process.
Call 911 Restoration as soon as you need emergency restoration services. Get the Fresh Start you need to start over in Seabrook.
Servicing the cities of Alton, Amherst, Andover, Antrim, Ashland, Auburn, Barnstead, Barrington, Bartlett, Bedford, Belmont, Berlin, Bethlehem, Bow, Bradford, Brentwood, Bristol, Brookline, Campton, Canaan, Candia, Canterbury, Center Conway, Charlestown, Chesterfield, Chichester, Claremont, Colebrook, Concord, Contoocook, Conway, Danville, Deerfield, Derry, Dover, Dunbarton, Durham, Enfield, Epping, Epsom, Exeter, Farmington, Franklin, Fredericksburg, Fremont, Gilford, Goffstown, Gorham, Grantham, Greenfield, Greenland, Hampstead, Hampton, Hampton Falls, Hancock, Hanover, Haverhill, Henniker, Henniker, Hillsboro, Hinsdale, Holderness, Hollis, Hooksett, Hudson, Jaffrey, Keene, Kingston, Laconia, Lebanon, Lincoln, Litchfield, Littleton, Londonderry, Loudon, Lyme, Manchester, Marlborough, Meredith, Merrimack, Milan, Milford, Moultonborough, Nashua, New Boston, New Durham, New Hampshire, New Hampton, New Ipswich, New London, Newbury, Newmarket, Newport, North Conway, North Hampton, Northwood, Nottingham, Orford, Ossipee, Pelham, Peterborough, Pittsfield, Plaistow, Plymouth, Portsmouth, Raymond, Rindge, Rochester, Rollinsford, Rye, Salem, Sanbornton, Sandown, Seabrook, Somersworth, Spofford, Strafford, Stratham, Sunapee, Suncook, Swanzey, Tamworth, Tilton, Wakefield, Walpole, Warner, Waterville Valley, Weare, Whitefield, Winchester, Windham, Wolfeboro, Woodstock, Woodsville, and surrounding areas.