Water Damage in Windham
A pipe burst at midnight is not a problem. It's an emergency. The good news is that if you need water damage restoration in Windham or the surrounding area, you can expect an emergency response from the highest quality flood cleanup technicians in town. 911 Restoration of New Hampshire is staffed entirely by highly trained, IICRC certified water damage restoration technicians. Even better, these professionals are on-call 24 hours a day, every single day of the year. And they don't keep you waiting. They guarantee an on-the-scene response time of 45 minutes or less.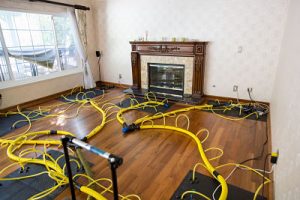 At 911 Restoration, we understand the anxiety a pipe burst, flooded basement, or sewage backup can cause. Not to mention the rainstorms, freezing temperatures, and hurricanes brought on by the local climate can make any property owner feel defenseless against water damage. The flood cleanup staff works hard to provide excellent, compassionate water restoration and mold remediation in Windham and beyond. They work diligently to give their neighbors immediate peace of mind, no matter the crisis. This means prompt attention, clear communication, and comprehensive service. They cover everything from water removal to repairs, mold inspection, and mold remediation, ensuring that your call to 911 Restoration is the only call you need to make.
The water damage restoration experts even provide a free insurance consultation so you don't have to muddle through the complicated technicalities of your coverage. A staff member reviews your policy, clarifies which services are covered by your provider, and assists you with all the necessary paperwork to make sure you get the benefits to which you are entitled. 
At 911 Restoration of New Hampshire, your peace of mind comes first. Call now for the urgent response and compassionate service you deserve.
Emergency Water Removal And Property Restoration
Whether you own a commercial or residential property, you cannot afford to wait on water damage restoration. If you've got a pipe burst, flooded basement, storm damage, or any other form of water invasion, you've got an emergency. The flood cleanup technicians at 911 Restoration understand this, and that's why you can count on them to be on the scene in 45 minutes or less.
They respond to your water incident with the speed and skill necessary to minimize damage. They act quickly to pack out and store at-risk belongings, board up damage in the face of a storm, conduct emergency roof repair or storm repair, extract sewage, or handle any other emergency service your situation calls for. They tackle your disaster with a strategy designed to get all water and moisture out of your property first and foremost, including structural drying using professional fans. 
Despite their initial focus on your most urgent needs, 911 Restoration isn't just about getting the water out and mitigating the cause of your disaster. The water damage restoration crew is also about long-term solutions and total property restoration. This means they fix any structure or surface that has been damaged, no matter what it is. They conduct a mold inspection to make sure no mold spores have spawned an infestation in your property, and if they find evidence of contamination, they handle mold removal personally.
When you call 911 Restoration of New Hampshire for assistance with your pipe burst, flooded basement, or any other disaster, you ultimately help yourself by recruiting personal attention and comprehensive service.
Don't settle for less than the best. Call 911 Restoration for quality flood cleanup and mold remediation today.
Professional Mold Inspection In Windham
Whether you've been waking up dizzy and suspect there is mold in your walls or you see a colony growing in plain sight, it's in your best interest to call a certified mold inspection and mold removal company right away.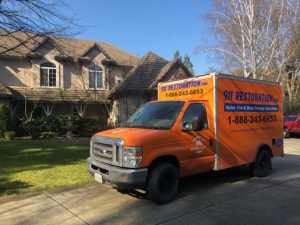 Where there is one mold colony in plain sight, there are often others hidden in dark, damp places. This is especially true if you've recently experienced a water damage episode such as a roof leak or a flooded basement. The mold inspection professionals at 911 Restoration of New Hampshire take special care to examine your property thoroughly for any signs of hidden growth. They are determined to uncover every patch and every colony so they can be 100% certain their mold removal service gets rid of your infestation completely.
Once they've discovered and identified the growth, they conduct mold decontamination with the strategy most effective for the species that has invaded your home. Some varieties of mold are toxigenic and release mycotoxins into the air, especially when disturbed. The mold remediation professionals know how to address a dangerous colony with the greatest caution, conducting mold removal while minimizing the release of harmful particles. They care about your health and well-being, which means they work with a special focus on making your property clean and your air breathable. 
Mold remediation is completed with structural dehumidifying to prevent the return of mold, as well as any repairs necessary to make your home or business new again. Mold can eat away at the structure of your property, and if there's any weakness or destruction discovered after mold removal, the mold decontamination staff repairs or replaces the compromised material.
All professionals at 911 Restoration of New Hampshire believe in providing their neighbors with a Fresh Start. No matter what you're going through, they can turn today's bad fortune into an opportunity to begin again, better than ever.
Call now.
Servicing the cities of Alton, Amherst, Andover, Antrim, Ashland, Auburn, Barnstead, Barrington, Bartlett, Bedford, Belknap County, Belmont, Berlin, Bethlehem, Bow, Bradford, Brentwood, Bristol, Brookline, Campton, Canaan, Candia, Canterbury, Carroll County, Center Conway, Charleston, Cheshire County, Chesterfield, Chichester, Claremont, Colebrook, Concord, Contoocook, Conway, Coos County, Danville, Dover, Deerfield, Derry, Dunbarton, Durham, enfield, Epping, Epsom, Exeter, Farmington, Franklin, Fredericksburg, Fremont, Gilford, Goffstown, Gorham, Grafton County, Grantham, Greenfield, Greenland, Hampstead, Hampton, Hampton Falls, Hancock, Hanover, Haverhill, Henniker, Hillsboro, Hillsborough County, Hinsdale, Holderness, Hollis, Hooksett, Hudson, Jaffrey, Keene, Kingston, Laconia, Lebanon, Lincoln, Litchfield, Littleton, Londonderry, Loudon, Lyme, Manchester, Marlborough, Meredith, Merrimack, Merrimack County, Milan, Mitford, Moultonborough, Nashua, New Boston, New Durham, New Hampshire, New Hampton, New Ipswich, New London, Newbury, Newmarket, Newport, North Conway, North Hampton, Northwood, Nottingham, Orford, Ossipee, Pelham, Peterborough, Pittsfield, Plaistow, Plymouth, Portsmouth, Raymond, Rindge, Rochester, Rockingham County, Rollinsford, Rye, Salem, Sanbornton, Sandown, Seabrook, Somersworth, Spofford, Strafford, Stratham, Sullivan County, Sunapee, Suncook, Swanzey, Tamworth, Tilton, Wakefield, Walpole, Warner, Waterville Valley, Weare, Whitefield, Winchester, Windham, Wolfeboro, Woodstock, Woodsville, and surrounding areas.