Water Damage and Mold Removal Auburn
When water damage is not cleaned up right away it has a tendency to create fungus growth, which is why our mold removal Auburn techs at 911 Restoration of New Hampshire are trained to repair both moisture and mold problems.
Our water damage Auburn experts are qualified to offer you comprehensive water damage and mold cleanup services, such as:
Moisture extraction

Air filters and purifiers

Cleanup services

Mold testing

Spore removal

Vapor Barriers

Drywall replacement

Thorough drying techniques

Vacuuming

Sanitization

Water damage restoration
Homeowners should not let mold grow freely throughout the home, especially since there are different varieties of mold that can impose various threats to both the home and those living inside of it.
Our IICRC certified mold removal Auburn professionals have a reputation for acting fast in these situations, arriving within 45 minutes of being notified of all water emergencies, two skills that are critical to every fungal infestation.
You cant trust us to get your home back into pristine condition once we arrive on the scene. Our water damage Auburn team are available 24/7/365, so call us today and we will get the process started with a free visual mold inspection
We Will Do Everything We Can To Protect You From Mold Spore Inhalation
Homeowners need to be mindful if they discover mold growing on their property, because inhaling the spores of this substance can be potentially toxic.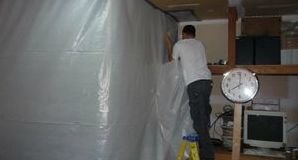 Mold and fungus can create damage on the home's structure, as well as the items it is growing on inside the household, but the mold removal Auburn staff know that, even more importantly, the spores can affect those breathing it in.
Inhaling in mold spores can cause people to experience health issues that are similar to allergy-like symptoms, along with respiratory issues and other breathing problems.
Our water damage Auburn technicians are trained to clean up all types of fungal infestations,  and we always make sure to use vapor barriers to stop the spores from spreading throughout the rest of the household.
Call our mold removal Auburn agents today, and you can rest assured that we will go the extra mile to get your home thoroughly sanitized.
Customer Service Counts Most In The Midst Of A Leak or Flood Crisis
With so many years of experience in the field, our water damage Auburn specialists know that we need to take care of the customer, as well as repairing water damage and mold growth quickly.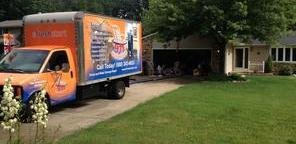 It doesn't matter what time you need us, our company aims to provide the highest level of customer service possible to help homeowners around the clock during these chaotic times.
We just wants to make things easy, so when our mold removal Auburn pros arrive on the property, we take responsibility for every aspect of the restoration job.
Our water damage Auburn crew will even help you with the financial side of things, including going over your insurance policy with you to see if mold is part of your coverage.
If your home is experiencing a fungal infestation or issues with water intrusion, call our mold removal Auburn unit at 911 Restoration of New Hampshire today, so we can get started on giving you a fresh start.