Water Damage and Mold Removal in Hudson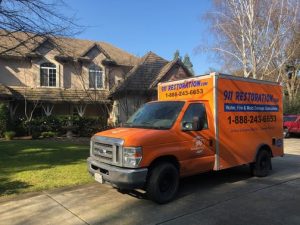 Did you experience a flood, sewage backup, or pipe burst in Hudson? The water damage restoration and mold removal pros at 911 Restoration of New Hampshire can help you recover from these events. Contact us 24/7/365 to get help from IICRC certified flood cleanup and mold remediation specialists.
911 Restoration of New Hampshire can begin property restoration with a water damage and mold inspection in Hudson. Flood cleanup and mold decontamination techs can develop a personalized plan to completely restore your property based on the results of your mold inspection.
Contact mold remediation crews now and you can get help completely restoring your home or business in Hudson. Crews can reach your property within 45 minutes of an emergency call, so don't wait to get the help you deserve to handle mold removal or flood cleanup.
What Happens During Water Damage Restoration in Hudson?
The water damage restoration and mold decontamination process doesn't need to be shrouded in mystery. Based on your needs, flood cleanup and mold removal in Hudson can involve:
A Professional Water Damage and Mold Inspection

Water Extraction and Dehumidification

A Check for Hidden Moisture with Infrared Scanners

Repair Work for Structural Water Damage

Full Commercial or Residential Mold Remediation
Hudson flood cleanup and mold decontamination techs at 911 Restoration of New Hampshire are licensed, bonded, and insured to perform all services necessary to bring your property back to perfect condition. Get help after a blizzard or a pipe burst right now.
Will You Experience Mold Growth after a Pipe Burst?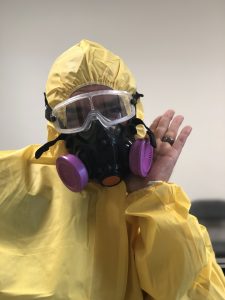 Many property owners are unsure if they need mold removal services following a pipe burst, snow storm, or flood. Generally, these water damage events can result in mold infestations, which can best be handled by professional Hudson mold remediation techs.
The Hudson water damage restoration pros at 911 Restoration of New Hampshire can check your property for signs of fungal growth with a mold inspection. You could also identify mold growth yourself if you:
Notice Strange Odors That Don't Seem to Have an Origin

Spot Discoloration on Your Walls, Floors, or Ceilings
Let water damage restoration techs take care of mold decontamination in Hudson quickly, to bring your property back to the condition that you remember. Hudson mold remediation techs can handle any type of mold infestation and water damage event, no matter how severe the damage.
Servicing the cities of Alton, Amherst, Andover, Antrim, Ashland, Auburn, Barnstead, Barrington, Bartlett, Bedford, Belknap County, Belmont, Berlin, Bethlehem, Bow, Bradford, Brentwood, Bristol, Brookline, Campton, Canaan, Candia, Canterbury, Carroll County, Center Conway, Charlestown, Cheshire County, Chesterfield, Chichester, Claremont, Colebrook, Concord, Contoocook, Conway, Coos County, Danville, Dover, Deerfield, Derry, Dunbarton, Durham, Enfield, Epping, Epson, Exeter, Farmington, Franklin, Fredericksburg, Fremont, Gilford, Goffstown, Gorham, Grafton County, Grantham, Greenfield, Greenland, Hampstead, Hampton, Hampton Falls, Hancock, Haverhill, Henniker, Hillsboro, Hillsborough County, Hinsdale, Holderness, Hollis, Hooksett, Hudson, Jaffrey, Keene, Kingston, Laconia, Lebanon, Lincoln, Litchfield, Littleton, Londonderry, Loudon, Lyme, Manchester, Marlborough, Meredith, Merrimack, Merrimack County, Milan, Milford, Moultonborough, Nashua, New Boston, New Durham, New Hampshire, New Hampton, New Ipswich, New London, Newbury, Newmarket, Newport, North Conway, North Hampton, Northwood, Nottingham, Oxford, Ossipee, Pelham, Peterborough, Pittsfield, Plaistow, Plymouth, Portsmouth, Raymond, Rindge, Rochester, Rockingham County, Rollinsford, Rye, Salem, Sanbornton, Sandown, Seabrook, Somersworth, Spofford, Strafford, Stratham, Sullivan County, Sunapee, Suncook, Swanzey, Tamworth, Tilton, Wakefield, Walpole, Warner, Waterville Valley, Weare, Whitefield, Winchester, Windham, Wolfeboro, Woodstock, Woodsville … and surrounding areas.