Water Damage and Mold Removal in Merrimack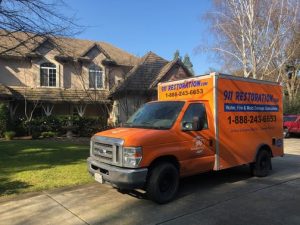 Get a Fresh Start after a snow storm, flood, or pipe burst in Merrimack by contacting 911 Restoration of New Hampshire. IICRC certified water damage restoration and mold removal techs in Merrimack can take your call 24/7/365, arriving at your property within 45 minutes to:
Complete a Water Damage and Mold Inspection

Take Care of Emergency Roof Repairs and Water Extraction

Dry Out Moisture with Dehumidifiers and Fans

Repair and Renovate Water Damage

Take Care of Odor Removal and Mold Decontamination
Return your property to better-than-new condition by allowing us to start Merrimack flood cleanup and mold remediation right now. Crews can assess your unique needs with a mold inspection.
Do You Need Same-Day Water Damage Restoration in Merrimack?
Water damage events like a pipe burst or winter storm can strike without warning, leaving you in need of immediate flood cleanup in Merrimack. It is important that you begin water damage restoration and mold removal quickly, as this can limit the total damage to your property.
Same-day water damage restoration and mold remediation in Merrimack can ensure your property is returned to perfect condition quickly. The techs at 911 Restoration of New Hampshire can reach your property within 45 minutes to start assessing your needs with a water damage and mold inspection in Merrimack.
Let us determine the fastest and most effective ways to handle water extraction, dehumidification, and mold decontamination in Merrimack. Get the prompt service you need to handle a pipe burst, carpet water damage, or a leaking ceiling.
Will Mold Remediation in Merrimack Get Rid of Foul Odors?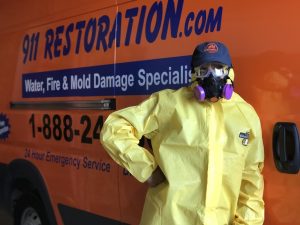 Pipe bursts and floods can result in serious damage to your home or business. Water can warp your floors and eat away at drywall. Mold can damage your property and possesses. These issues can also leave you dealing with foul odors.
Fortunately, mold remediation and flood cleanup can get rid of all signs of property damage and annoying smells. The Merrimack water damage restoration and mold removal pros at 911 Restoration of New Hampshire can completely renovate your property by:
Extracting Excess Water with Pumps

Drying Your Property with Dehumidifiers

Taking Care of Comprehensive Mold Decontamination

Repairing the Damage to Your Home or Business
Mold remediation crews can work on personalizing your flood cleanup and mold decontamination plan by completing a mold inspection. Find out exactly how your property can be restored with water damage restoration and mold removal by contacting us now.
Servicing the cities of Alton, Amherst, Andover, Antrim, Ashland, Auburn, Barnstead, Barrington, Bartlett, Bedford, Belknap County, Belmont, Berlin, Bethlehem, Bow, Bradford, Brentwood, Bristol, Brookline, Campton, Canaan, Candia, Canterbury, Carroll County, Center Conway, Charlestown, Cheshire County, Chesterfield, Chichester, Claremont, Colebrook, Concord, Contoocook, Conway, Coos County, Danville, Dover, Deerfield, Derry, Dunbarton, Durham, Enfield, Epping, Epson, Exeter, Farmington, Franklin, Fredericksburg, Fremont, Gilford, Goffstown, Gorham, Grafton County, Grantham, Greenfield, Greenland, Hampstead, Hampton, Hampton Falls, Hancock, Haverhill, Henniker, Hillsboro, Hillsborough County, Hinsdale, Holderness, Hollis, Hooksett, Hudson, Jaffrey, Keene, Kingston, Laconia, Lebanon, Lincoln, Litchfield, Littleton, Londonderry, Loudon, Lyme, Manchester, Marlborough, Meredith, Merrimack, Merrimack County, Milan, Milford, Moultonborough, Nashua, New Boston, New Durham, New Hampshire, New Hampton, New Ipswich, New London, Newbury, Newmarket, Newport, North Conway, North Hampton, Northwood, Nottingham, Oxford, Ossipee, Pelham, Peterborough, Pittsfield, Plaistow, Plymouth, Portsmouth, Raymond, Rindge, Rochester, Rockingham County, Rollinsford, Rye, Salem, Sanbornton, Sandown, Seabrook, Somersworth, Spofford, Strafford, Stratham, Sullivan County, Sunapee, Suncook, Swanzey, Tamworth, Tilton, Wakefield, Walpole, Warner, Waterville Valley, Weare, Whitefield, Winchester, Windham, Wolfeboro, Woodstock, Woodsville … and surrounding areas.