Water Damage And Mold Removal in Pelham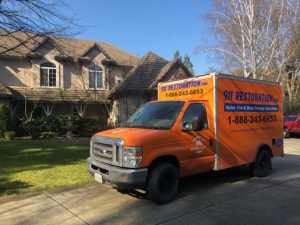 911 Restoration of New Hampshire is here for you when a pipe bursts and you have a flooded basement. They're here for you when you need someone to remove water from your carpet or patch your roof after storm damage. They've got you covered in the event of a sewage backup, ice dam destruction, washer machine flood, or any other water disaster that might descend on your home or business. And they'll take care of you right now. Whether it's day or night, weekday, weekend, or holiday, all you have to do is pick up the phone. An expert water damage restoration crew is guaranteed to be at your door in 45 minutes or less.
911 Restoration offers emergency flood cleanup in Pelham because they care about the wellbeing of their neighbors and the beautiful properties that make this community great. The staff is IICRC certified in all aspects of water damage restoration, which means they do far more than water extraction. They are equipped to do whatever it takes to restore your home or business to its former glory, including surface and structural repairs. 
The water damage restoration technicians are also trained and certified in mold remediation. If you have a mold infestation—or even if you only suspect you do—these experts conduct a professional, reliable mold inspection and follow up with full-service mold decontamination.
The flood cleanup staff even offers added peace of mind through their free insurance consultation. If you feel overwhelmed trying to figure out which aspects of water damage restoration are covered by your provider, a friendly staff member will take that burden off your plate. They explain which costs your provider is responsible for, from sewage extraction to roof repair to mold removal. They collaborate with you on loss itemization and even file your claim for you. 
It's clear enough that you're never alone when it comes to water damage and mold remediation. If you're reeling from a pipe burst, storm damage, flooded basement, or any other disaster, take a deep breath and call 911 Restoration of New Hampshire.
Speedy Water Damage Restoration In Pelham
Feeling a little frantic in the wake of a pipe burst or flooded basement? Rest assured that the flood cleanup technicians at 911 Restoration feel the same sense of urgency you do. And they're trained to harness that urgency with clear heads and a focused strategy.
When the water damage restoration crew arrives at your commercial or residential property (in 45 minutes or less!), they immediately assess the damage and communicate with you about the services needed to make your home or business new again. Their first order of business is to stop the flow of water through roof repair, boarding up, or any other emergency method. They then pack out and store any belongings at risk of being damaged during flood cleanup. Water removal happens at top speed, as the flood cleanup experts realize that the faster they get moisture out of your property, the less likely you are to incur costly damages or suffer from mold contamination. The workers extract all water or sewage, sanitize the area, and ensure the space is left bone dry with heavy duty fans. 
Your dedicated water damage restoration staff views your pipe burst or flooded basement as an opportunity to give you and your property a Fresh Start. That's why their service continues with structural testing, damage repairs, mold inspection, and mold decontamination. Their goal is to not only clean and restore your property, but to leave it in its best-ever condition.
There are two possibilities when it comes to a water incident. This crisis can be a problem to be solved, or it can be an opportunity to begin again, stronger than before. Choose 911 Restoration of New Hampshire, and you choose a Fresh Start.
Removing Dangerous Mold After Water Damage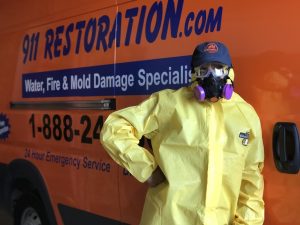 While many property owners worry first and foremost about the rotting and warping that water damage can cause, an equally insidious consequence is mold contamination.
Mold is not only destructive to your property; it's also harmful to your health. Without prompt mold removal, many species of mold are bound to release harmful particles into the air you breathe. Mycotoxins and other particles collect in your system and lead to a range of health issues from allergies to heart problems.
This is why it's essential to call on a certified mold removal company for mold inspection and mold remediation. Only qualified professionals like those at 911 Restoration are sure to uncover every hidden infestation with their thorough mold inspection. And when they discover a colony, they know how to manage mold removal in the safest and most effective way. They also come equipped with special tools to dehumidify the structure where mold grew, discouraging a repeat infestation.
Even if you know where a colony is growing within your property, contact a certified mold remediation specialist instead of trying your own DIY mold removal methods. Not only are household cleaners ineffective at permanent mold decontamination, it's also risky for your to put yourself in direct contact with a toxigenic or pathogenic mold colony. 
For the sake of your health, your property, and your wallet, contact 911 Restoration of New Hampshire for safe mold remediation in Pelham and beyond.
Servicing the cities of Alton, Amherst, Andover, Antrim, Ashland, Auburn, Barnstead, Barrington, Bartlett, Bedford, Belknap County, Belmont, Berlin, Bethlehem, Bow, Bradford, Brentwood, Bristol, Brookline, Campton, Canaan, Candia, Canterbury, Carroll County, Center Conway, Charleston, Cheshire County, Chesterfield, Chichester, Claremont, Colebrook, Concord, Contoocook, Conway, Coos County, Danville, Dover, Deerfield, Derry, Dunbarton, Durham, enfield, Epping, Epsom, Exeter, Farmington, Franklin, Fredericksburg, Fremont, Gilford, Goffstown, Gorham, Grafton County, Grantham, Greenfield, Greenland, Hampstead, Hampton, Hampton Falls, Hancock, Hanover, Haverhill, Henniker, Hillsboro, Hillsborough County, Hinsdale, Holderness, Hollis, Hooksett, Hudson, Jaffrey, Keene, Kingston, Laconia, Lebanon, Lincoln, Litchfield, Littleton, Londonderry, Loudon, Lyme, Manchester, Marlborough, Meredith, Merrimack, Merrimack County, Milan, Mitford, Moultonborough, Nashua, New Boston, New Durham, New Hampshire, New Hampton, New Ipswich, New London, Newbury, Newmarket, Newport, North Conway, North Hampton, Northwood, Nottingham, Orford, Ossipee, Pelham, Peterborough, Pittsfield, Plaistow, Plymouth, Portsmouth, Raymond, Rindge, Rochester, Rockingham County, Rollinsford, Rye, Salem, Sanbornton, Sandown, Seabrook, Somersworth, Spofford, Strafford, Stratham, Sullivan County, Sunapee, Suncook, Swanzey, Tamworth, Tilton, Wakefield, Walpole, Warner, Waterville Valley, Weare, Whitefield, Winchester, Windham, Wolfeboro, Woodstock, Woodsville, and surrounding areas.