Mold Removal in Salem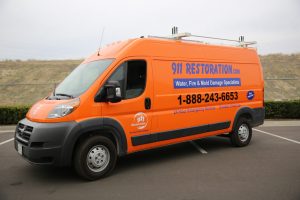 Did you spot mold growth in your home or business? You can protect your property and your health by starting mold remediation in Salem right away. The IICRC certified mold removal techs at 911 Restoration of New Hampshire are standing by to take your call, 24/7/365. Get a Fresh Start by allowing us to:
Perform a Free Visual Mold Inspection for Property Owners Only

Send a Sample of Your Mold for Mold Testing

Carry Out Complete Mold Decontamination

Remove Odors and Assess the Underlying Cause of Your Mold Infestation
911 Restoration of New Hampshire can start mold cleanup in Salem within 45 minutes of your call, anytime of the day or night.
What Are the Steps in Salem Mold Remediation?
You can go over the different aspects of mold remediation in Salem right here. In order to completely renovate and restore your property, mold cleanup techs can:
Complete a Mold Inspection and Handle Mold Testing

Quarantine Areas with Mold Growth

Set Up Air Filters to Get Rid of Mold Spores

Clean and Scrub All Infested Areas

Handle Mold Decontamination for Infested Possessions

Finish a Final Mold Inspection to Ensure Your Property is Fully Restored
Here at 911 Restoration of New Hampshire, our Salem mold removal techs are licensed, bonded, and insured to handle both commercial and residential mold inspections. Contact mold remediation experts now to begin mold cleanup without any delay.
How Should You Deal with Black Mold in Salem?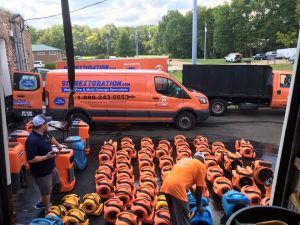 Black mold has a reputation for being a dangerous fungus that can cause property damage and serious health issues. Fortunately, the mold decontamination techs at 911 Restoration of New Hampshire can get rid of this fungus for you.
Salem mold decontamination tests can check for signs of black mold with a mold inspection in Salem. Mold remediation techs have the protective equipment to handle black mold without threatening your well-being.
We can get rid of all traces of black mold with professional mold cleanup techniques. Note that you should not try to handle black mold removal on your own. This type of mold is dangerous to your physical well-being and should only be handled by mold removal experts, like the pros at 911 Restoration of New Hampshire.
Servicing the cities of Alton, Amherst, Andover, Antrim, Ashland, Auburn, Barnstead, Barrington, Bartlett, Bedford, Belknap County, Belmont, Berlin, Bethlehem, Bow, Bradford, Brentwood, Bristol, Brookline, Campton, Canaan, Candia, Canterbury, Carroll County, Center Conway, Charlestown, Cheshire County, Chesterfield, Chichester, Claremont, Colebrook, Concord, Contoocook, Conway, Coos County, Danville, Dover, Deerfield, Derry, Dunbarton, Durham, Enfield, Epping, Epson, Exeter, Farmington, Franklin, Fredericksburg, Fremont, Gilford, Goffstown, Gorham, Grafton County, Grantham, Greenfield, Greenland, Hampstead, Hampton, Hampton Falls, Hancock, Haverhill, Henniker, Hillsboro, Hillsborough County, Hinsdale, Holderness, Hollis, Hooksett, Hudson, Jaffrey, Keene, Kingston, Laconia, Lebanon, Lincoln, Litchfield, Littleton, Londonderry, Loudon, Lyme, Manchester, Marlborough, Meredith, Merrimack, Merrimack County, Milan, Milford, Moultonborough, Nashua, New Boston, New Durham, New Hampshire, New Hampton, New Ipswich, New London, Newbury, Newmarket, Newport, North Conway, North Hampton, Northwood, Nottingham, Oxford, Ossipee, Pelham, Peterborough, Pittsfield, Plaistow, Plymouth, Portsmouth, Raymond, Rindge, Rochester, Rockingham County, Rollinsford, Rye, Salem, Sanbornton, Sandown, Seabrook, Somersworth, Spofford, Strafford, Stratham, Sullivan County, Sunapee, Suncook, Swanzey, Tamworth, Tilton, Wakefield, Walpole, Warner, Waterville Valley, Weare, Whitefield, Winchester, Windham, Wolfeboro, Woodstock, Woodsville … and surrounding areas.