Sewage Backup Cleanup Hanover
Sewage backup cleanup should be left to our sewage backup cleanup Hanover crew because we have over 35 years of experience dealing with the dangerous substance. A toilet overflow introduces toxic waste to your property, 911 Restoration New Hampshire uses the latest drying technology and hazmat suits to remedy the problem. We are licensed, insured, and bonded in all of the following in order to make sure our water removal services are complete and fast:
Water extractions
Disaster restoration
Sewage backup cleanup
Mold remediation
Sewage backup, whether from a ruptured hose or pipe burst, will need our water damage restoration because these events start pumping water into your carpets and drywall as soon as they occur. Most water emergencies will require mold removal afterward because the fungus only needs a bit of excess moisture to turn into an infestation. Our sewage backup cleanup Hanover team offers a free inspection to visually spot mold and handle the problem if it does exist. Due to our climate and the fact that Hanover lies on the Connecticut River, there are many chances for floods that will overwhelm the municipal waterline. When this happens, your house could fill with black water or gray water. Call us when plumbing leaks damage your building and we will provide you with superb sewage backup cleanup services at an affordable price.
Who do I Call for Sewage Backup Cleanup?
When you need sewage backup cleanup Hanover services call 911 Restoration Hanover. We are available 24/7 to respond within 45 minutes. We value professionalism, so we make sure our work is fast and thorough. When your home floods from a pipe burst or toilet overflow, we provide the water cleanup that will return it to its proper condition.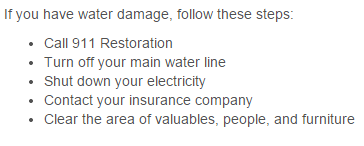 We are working with all insurance companies to provide you with an affordable price for our disaster restoration services. We appreciate the emergency nature of the situation and make sure you receive the help you need. We will even tell you how to protect your home from future disasters by insulating your water line, installing a sewage back flow valve, and aligning your downspouts away from your home. We will even file your insurance claim for you. The best way to get the most out of your homeowner's insurance policy is to perform all necessary preventative maintenance. This is also a good idea because according to the Insurance Information Institute, Water damage is one of the most frequent reasons for insurance loss. Taking steps to stop the effects of water damage on your home should keep it safe for many years to come. In the event a fluke does occur, call our sewage backup cleanup Hanover experts for same day service and a fresh start in the city of Hanover.