Sewage Backup Cleanup Merrimack
Sewage backup cleanup is the process of repairing your home after a toilet overflow or other plumbing problem. Our sewage backup cleanup Merrimack crew has over 35 years of experience dealing with black water, so 911 Restoration New Hampshire has the tools and expertise to handle all your returning water needs. Whether a pipe burst is pumping water into your carpets or crawlspace, or rain floods your water line causing plumbing leaks, we can help you with the latest drying technology. We are working with the best plumbers in the area to make sure your home is back to normal as quickly as possible while still providing a professional disaster restoration service. We can help you with:
Water Cleanup
Plumbing Repair
Preventative maintenance
A free inspection
Sanitation
Speed and efficiency are essential to these types of jobs in order to make your home safe. The longer you wait to contact our sewage backup cleanup Merrimack team, the more bacteria and damage occurs in your home. Houses in Merrimack, NH have a reputation to live up to that is impossible to meet if e. coli from category 3 disasters remains. This town was the home of Matthew Thornton, who signed the Declaration of Independence. His house still remains to this day. If you want your home to withstand the test of time, call us for professional sewage backup cleanup services when a ruptured hose or washer burst threatens to shut down your property and we will respond within 45 minutes.
Who do I Call for Sewage Backup Cleanup?
Call 911 Restoration Merrimack when you need sewage backup cleanup Merrimack services because we are available 24/7 with the latest drying technology to make sure your home is completely dry and sanitary after the worst toilet overflow. No matter how bad the water damage gets, we can help you solve the problem. IF your home suffers black water or gray water emergency, follow these steps: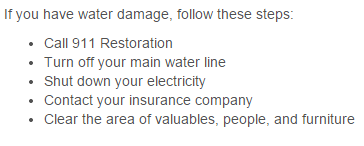 We always put customer first, which means we value professionalism, your safety, and your home's structural integrity. We replace carpets, dry wall, and even perform full reconstruction if necessary after yoa pipe burst saturates a support beam. Floods can spell serious trouble for your building, so we are working with all insurance companies to make sure you get an affordable price from our sewage backup cleanup Merrimack company no matter how bad the damage. We treat this disaster as an emergency, which means we act a fast and retain a professional demeanor. We will walk you through the steps of our restoration service. Call us today and we will work with your homeowner's insurance to make sure you get the sewage backup cleanup you need.
Will my Homeowner's Insurance Cover Sewage Backup Cleanup?
It is likely that your homeowner's insurance will cover sewage backup cleanup Merrimack services as long as you have remained on top of preventative maintenance. Plumbing repair, installing a sewage back flow valve, and maintaining clean gutters is vital in showing your insurance  company that you are a responsible homeowner. If they believe negligence could have come into play, they may not pay for the job. We have over 35 years of experience dealing with these types of trouble. We speak the industry jargon to better service you. We will file your insurance claim to make sure you get the coverage you deserve. The Insurance Information Institute has done studies that show water damage is one of the most frequent reasons for insurance loss, so you want to know your policy inside and out. In addition, requesting the aid from our sewage back cleanup Merrimack professionals could be the difference of paying for the whole job yourself and having your agent cover it. Call us today for help dealing with your insurance company and the traumatic events of a washer burst because we are the best sewage backup cleanup company.
What is the Best Sewage Backup Cleanup Company?
The best sewage backup cleanup company is 911 Restoration because we value professionalism, always put the customer first, and our sewage backup cleanup Merrimack experts are available 24/7 to help you as soon as the disaster strikes. After your home has been restored we provide a free inspection to spot any remaining mold spores. This is mandatory after any floods because mold thrives in moist environments. By the time we are finished, your home will be mold-free, odor-free, and moisture-free. Call our sewage backup cleanup Merrimack technicians when returning water enters your home and we will provide you with a fresh start in the city of Merrimack.