Water Damage Concord
The water damage Concord team with 911 Restoration New Hampshire provides homeowners with a fresh start through quality water damage repair and restoration services.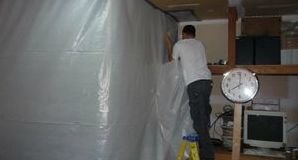 Our water damage Concord professionals are trained and equipped to assist you through water emergencies.
Your roof is exposed to various weather conditions which include rain and snow. Eventually, the elements can take their toll and leave your home susceptible to water damage like roof and ceiling leaks.
These emergencies need to be taken care of as soon as possible to prevent any further problems like mold growth and to mitigate any further expenses.
So you can get the assistance you need right away, you can expect our team to be there on site within 45 minutes of your call.
We'll make sure that the leak is patched up and that the damaged sections get the restorations they need so your home can back into shape!
No matter when the issue occurs, you can count on 911 Restoration to provide you with reliable on the day service 24/7/365.
If your home or storefront is already taking on flooding from a pipe burst, water heater loss, or even a toilet overflow, then you need the professional assistance of our water damage Concord team with 911 Restoration New Hampshire today!
Water Damage Restoration Experts
Our team has countless hours of experience in dealing with all kinds of water damage Concord emergencies and this is why we have become the go-to source for services in the area.
With our familiarity to various issues, you can count on us to help you with all manner of water damage situations including:
Roof and ceiling leaks
Clogged gutters and downspouts
Pipe bursts and other plumbing concerns
Weather and storm damage
Flood extraction
Bathtub overflows
Sewage backups
Mold growth
Water heater leaks
Ruptured hoses on water-based appliances
If your home is being swamped by any of these issues, count on 911 Restoration's IICRC certified crews to do provide professional assistance.
We've undergone rigorous training and are equipped with the latest drying technology to extract water and moisture out of your home effectively.
Aside from providing you with the quality water damage repair and restorations, our specialists can also help you prevent future water damage incidents with our tips.
Don't let your home succumb to the devastating effects of water damage from a pipe burst, ceiling leak or any other form of loss. Contact our water damage Concord experts with 911 Restoration New Hampshire today!
Water Damage Prevention and Restoration Experts
911 Restoration is always read to help you with all manner of water-related concerns you may have. When you need lighting quick action to patch up a roof leak, we're the company you can call and we're always ready to lend you a hand.
Feel for signs of moisture in your attic. This could be an indication that there isn't enough ventilation near the roof line. That excess moisture could lead to mold growth.
Once winter comes and you're planning to go out of town, it's a good idea to turn off the water main to prevent pipe bursts while you're gone. When you're at home, make sure the temperature is always above freezing point.
Keep your gutters and downspouts clear of leaves and debris. Regular cleaning can go a long way in preventing roof leaks and foundation damage.
You can reach us through our 24/7/365 through call centers with American agents. Whenever you need a fresh start, give our water damage Concord team with 911 Restoration New Hampshire a call today!